Wilson Wideband Directional Antenna 50 Ohm | weBoost Yagi
314411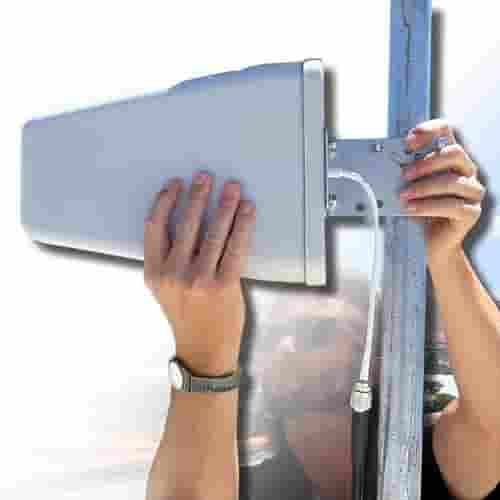 Specs
High Gain, Wide Frequencies
The weBoost 50-Ohm Wideband Directional Antenna offers versatility, reliability, and high performance when used with weBoost residential cell signal boosters. With its tilt-swivel mounting bracket, it easily mounts to exterior walls or rooftop vent pipes. The 50-Ohm Wideband Directional Antenna is made to precision target far away towers—delivering reliable coverage to homes in weak cell signal areas.
The antenna's protective anti-UV plastic housing resists sunlight, water, and debris for added protection and reliability in all-weather conditions. Aluminum U-bolt mount and included hardware allow for safe and secure installation on an exterior wall, antenna pole, or rooftop vent pole. Made for use with coax cable featuring N-Male connectors. Antenna includes a 2-year manufacturer's warranty from weBoost.
*75-ohm amplifiers must have the appropriate connector to allow the outside cable to be connected to the amplifier or to the antenna.
Features
· Targets cell towers to optimize signal
· Compatible with all US carriers
· Supports multiple devices
· High efficiency, compact antenna design
· Anti-UV plastic housing for all-weather use